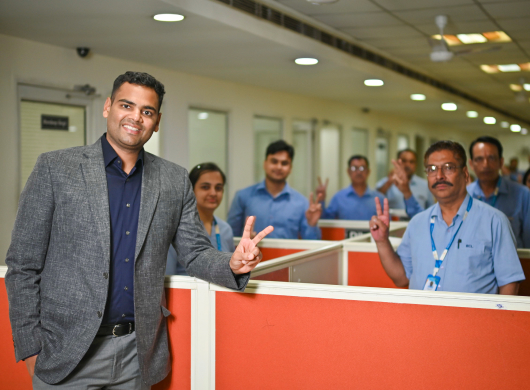 Make An Impact
With BCL
We are a diverse team with a sincere commitment towards excellence in whatever we do. For us at BCL Industries, our people are the most significant assets and enabling their overall growth and development is our priority. Our supportive and collaborative ecosystem is designed to inspire and nurture talents towards growth and development. Although diverse, our teams are united with a shared mission, to improve lives by building a better tomorrow and a stronger nation.
Grow Your Career
With BCL
Ours is a culture that fosters learning, growth, innovation, and an environment that helps our people unleash their full potential. We provide all the resources and opportunities you need to thrive and make a meaningful impact to the company, the country and the planet. Embrace a career of endless possibilities and join us on a journey worth celebrating.
Opportunities Unlimited:
Training programs and resources
for career advancement.
Dynamic Environment:
Helps fuel innovation, collaboration
and communication through its
diverse businesses.
Making A Difference:
An opportunity to transform lives and
contribute towards nation-building.
Testimonials
Great Place to Work & Grow
I have been working here for more than 30 Years. I was joining the Company from 1st April 1991. The Work Culture is great and diverse. Yours Ideas and Creativity towards technology are always appreciated and awarded- Great Pay and meaningful work.
Our Aim is to create a hallmark in the Edible Oil, Real Estate and Distillery Sector with Improvisation, Novelty and Uniformity as the trademark of our Business.
JAGGA SINGH
Department Solvent Extraction
Your idea was the one that sparked the start of the new project and heel an extremely positive impact on our business results. Your productive approach is a rare but extra ordinary quality that strength our team.
Thankyou for going above and beyond the call of duty.
JASBIR SINGH
Electricity Production Department
I have been working here for more than 40 Years. In the Period of 1976-1980 The BCL Industries Limited started with a solvent extraction plant and extracted oil from rice bran. Over the Years, we have forayed into key business segments including vegetable oil refining (Physical and Chemical), solvent extraction, oil extraction, distillery-ethanol production, real estate and rice sheller. I would like to extend my heartfelt gratitude to our Company and wish to become a one of the leading players in the edible oil and distillery segment in the World.
SHAMBHU SINGH
Refinery Department
Join Us
Experience a diverse, inclusive and collaborative work culture that values its employees and rewards hard work. If you share our passion and the commitment to make an impact, join us now for a rewarding career.
Email your CV with a letter of introduction to corphr@mittalgroup.co.in
Take a moment to complete the form below and our team will reach out to you with the next steps.
Stay Updated
Subscribe to our newsletter for the
latest BCL products and information.